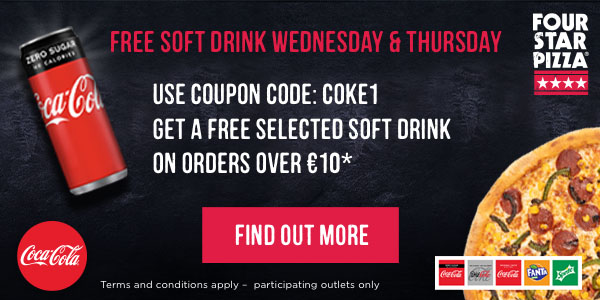 Step 1: Select the tasty pizza and sides you want to a minimum of €10 and add them to the cart.

Step 2: Also add separately one can of soft drink of your choice

Step 3: During check-out, you will see a coupon code box. Just like the one below:

Step 4: Type in the code Coke1 (make sure your order is above €10 without the free drink)

Step 5: Enjoy!
TERMS AND CONDITIONS
Free Soft Drink on Selected Days
Promoter's Name & Address:
Promoter: Coca-Cola HBC Ireland, Huntstown Business Park, Ballycoolin, Cappagh Road, Dublin 11. Telephone: (ROI) 1800 317 318. Coca-Cola HBC Northern Ireland, 12 Lissue Rd, Lisburn BT28 2SZ, United Kingdom. Telephone: (NI) 0800 317 318
Partners: Four Star Pizza, 66 Fitzwilliam Square North.
Eligibility to enter / opening and closing dates:
By participating in this promotion, participants will be deemed to have accepted, and will be bound by, these terms and conditions and by any other requirements set out in related promotional materials. These Terms and Conditions prevail in the event of any conflict or inconsistency with any other communications, including advertising or promotional materials.
This Promotion is open to residents of the Republic of Ireland & Northern Ireland aged 18 years and over.
1st Promotional Period opens 00:01 April 30th,2020 until the end of the day (according to each individual store hours).
2nd Promotional Period opens 00:01 May 6th,2020 until the end of the day of May 7th, 2020 (according to each individual store hours).
Each week, one weekday will be selected by the Promoter & Partner for consumers to avail of a Free Soft Drink with each order with a minimum order value of €10 in the Republic of Ireland or £10 in Northern Ireland. The availability of this free soft drink offer will be actively promoted on-line during the selected days.
Free Soft Drink Offer:
Purchase is necessary and available only on orders received via the Four Star website on the selected days within the promotional period. To avail of the free soft drink, simply order your pizza of choice, add your choice of soft drink to your order and then enter the code Coke1 in the space for the promo code. Entering the promotional code Coke1 will reduce the amount you owe on your order by the price of the ordered can. The choices of soft drinks available are: Coca-Cola, Diet Coke, Coca-Cola Zero Sugar, Fanta or Sprite (330ml). The Free Soft Drink will be valid on orders of €10 or over in ROI or £10 or over in NI excluding delivery.
While every effort will be made to ensure you receive your choice of free soft drink, there may be times when your selected free drink may not be available. On such occasions, Four Star Pizza may need to substitute your choice of free soft drink for an appropriate alternative.
Free soft drink offer is valid only within the stated Four Star delivery areas for orders in ROI & NI in participating outlets. Four Star Pizza's usual T&Cs and delivery charges apply and opening hours may vary by outlet. See https://FourStarPizza.ie/legal for more details.
General:
No cash or other alternative gift available in whole or in part, except in the event of circumstances outside the reasonable control of the Promoter, the Promoter reserves the right to offer a suitable alternative of equal or greater value.
In the event of circumstances outside the reasonable control of the Promoter, or otherwise where fraud, abuse, and/or an error (human, mobile or computer) affects or could affect the proper operation of this promotion or the awarding of free offer, and only where circumstances make this unavoidable, the Promoter reserves the right to cancel or amend the promotion or these terms and conditions, at any stage, but will always endeavour to minimize the effect to participants in order to avoid undue disappointment.
Sometimes, through reasons outside of the Promoters control, the Four Star Pizza website (as with any website) may not be accessible. The Promoter cannot guarantee continuous, uninterrupted access to the Four Star Pizza website or app. No responsibility will be accepted for any difficulties in ordering or any orders delayed or corrupted. The Promoter will have no liability for any loss arising out of such an event.
To the extent permitted by law, the Promoter accepts no liability for any damage, loss or injury suffered due to participating in this promotion or accepting a free gift.
Limitations of liability: insofar as permitted by law, neither the Promoter nor the promotional Partner assume any responsibility or liability for: i. Any incorrect or inaccurate registering of an order, or for any faulty, incorrect, failed, erroneous or failed electronic data transmissions; ii. Communications line failure, regardless of cause, with regard to any equipment, systems, networks, lines, satellites, servers, computers or providers utilized in any aspect of this promotion causing delays or disruption; iii. Inaccessibility or unavailability of the internet or the website or any combination thereof; iv. Insofar as permitted by law, any injury or damage to participants or to any other person's computer which may be related to or resulting from any attempt to participate in the promotion.
If any of these clauses should be determined to be illegal, invalid or otherwise unenforceable then it shall be severed and deleted from these terms and conditions and the remaining clauses shall survive and remain in full force and effect.
Nothing in these Terms and Conditions will limit the Promoter's liability for death or personal injury caused by its negligence or for fraud.
These Terms and Conditions shall be governed by and construed in accordance with the laws of the Republic of Ireland and Northern Ireland and any disputes shall be subject to the exclusive jurisdiction of the Irish or Northern Irish Courts.
The above terms and conditions are valid from 00:01 on April 29th, 2020, and closing at 23:59 on 21st May 2020.