We trawled through more than 750,000 pizza orders from our stores across Ireland in 2020 so far to get the lowdown on what's hot (and what's not) when it comes to the country's favourite pizza toppings.
Unsurprisingly, pepperoni took the crown as the most popular topping across EVERY one of our stores – 26.2% of the 'Create Your Own' pizzas we have served up in the last year have had pepperoni on them.
The battle for the bottom spot was much closer, with just 1.65% of our pizzas containing olives, followed by meatballs on 2.55%: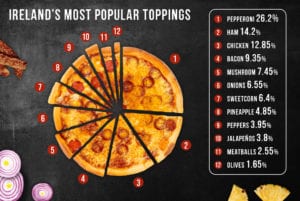 The most popular vegetarian option on the menu was mushrooms, which made up 21.5% of all the veggie toppings we served.
Onions were the next highest vegetarian topping on the list on 18.9%, followed by sweetcorn on 18.48%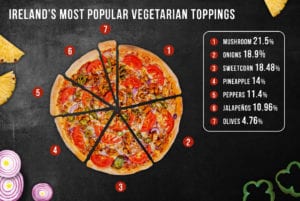 There was a regional difference in the second most popular topping overall, with customers in our Northern Ireland stores preferring chicken as their next favourite.
Those in the Republic of Ireland went with ham as their second most popular.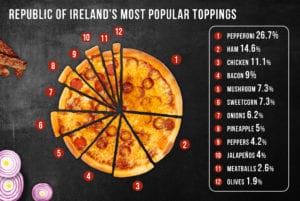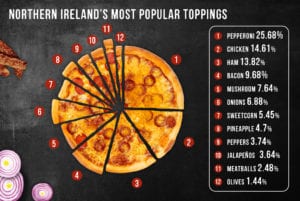 Our data showed that our Dublin customers proved to be a bit more 'continental' with their topping choices.
Dublin had a higher percentage of pizzas including olives and jalapenos compared to the national averages.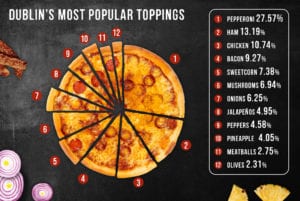 The pepperoni love was strongest in Belfast, where 27.95% of pizzas had it on their order, more than the overall average of 26.2%.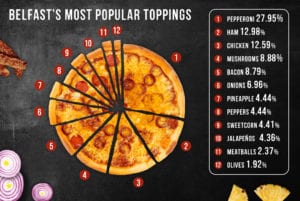 "Forget about the pineapple debate, we can reveal today that olives are the least favourite pizza topping in Ireland," said Four Star Pizza director Brian Clarke.
"Our figures show that, of all of 'create your own' pizzas sold on the island of Ireland, only one in every 60 contains olives, compared to one in every 20 including pineapple – which has, maybe unfairly, been the focus of huge debate for years.
"Of course, it comes as no surprise that pepperoni is top of the charts, appearing on more than a quarter  of all our DIY pizzas. In fact, last year alone, we used more than 60 MILLION slices of pepperoni on our pizzas!" he added.