We're super excited to announce the four provincial Star Nation finalists!
Starting with Ulster, Riley Holland from Newtownards, Co. Down sent us her original song 'Butterflies'. Riley is a singer-songwriter writing acoustic pop songs with a focus on meaningful lyrics.
From Leinster rap artist Daly sent us his song 'Everything will be OK'. Daly started performing when he was sixteen around the Temple Bar area, and since January of this year he has been gigging regularly and putting on live shows. He describes the song as being about decisions and ignoring life's distractions.
From Connacht Punk band Turnstiles were chosen after sending us their track "Wasting Away". The band, who are made up of Jake Tiernan on bass, Callum Mitchell on vocals, Colm Sweeney and Cillian Ryan on guitars, and Luke Mulliez on drums, draw their inspiration from classic groups like The Ramones and Buzzcocks and put an emphasis on simplicity in their music with short songs and strong lyricism.
And finally representing Munster singer-songwriter Clara Belle from Co. Cork was chosen for her song, 'City I love U'. After studying in Dublin and pursuing an acting career, Clara Belle returned to songwriting and for the last two years has been writing, producing and performing her own music.
TO VOTE FOR THE FINALISTS USING THE COUPON CODES BELOW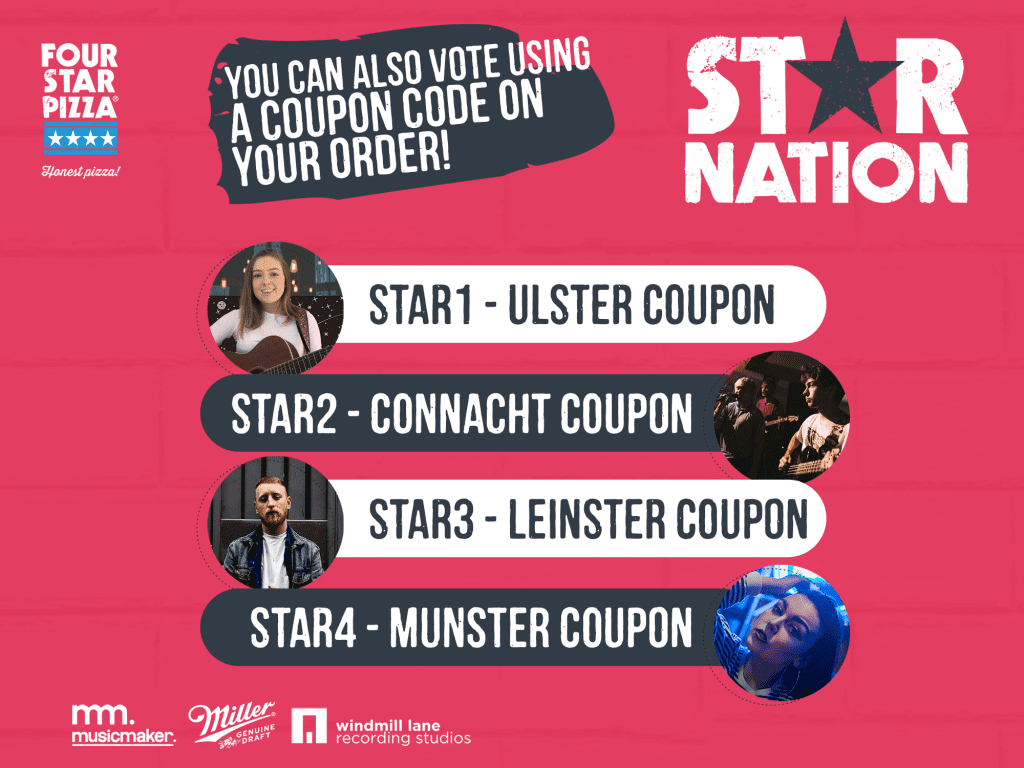 OR LIKING THEIR VIDEOS ON OUR FACEBOOK MAIN PAGE. CLICK HERE.