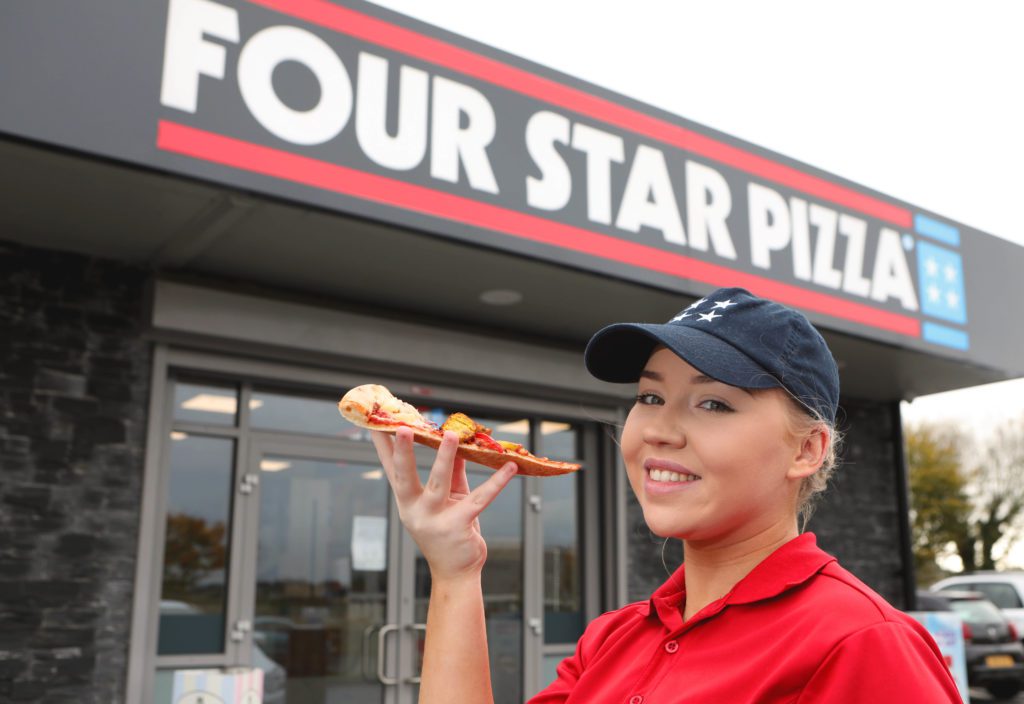 WORLD Vegan Day is on November 1st and vegans across Ireland have plant-y of reasons to be cheerful following the launch of a delicious new vegan pizza after Irish pizza chain Four Star Pizza (FSP) announced the launch of a delicious new pizza – its first foray into the growing vegan food category.
The pizza, simply called the 'New Vegan', is already proving a massive hit with customers – vegan or otherwise – and is made up from Four Star's famously fresh dough, topped with oregano, basil, chopped fresh garlic, vegan cheese, onions, mixed peppers, pineapple and cauliflower bites.
The pizza is also sprinkled with a speciality vegetarian cheese calledMozzarisellawhich contains coconut oil and brown rice.
Last year, Four Star Pizza sold almost 5 MILLION pizza across its 61 stores (including 15 in Northern Ireland) and its new vegan offering comes on the back of an increased demand from customers for a healthy plant-based pizza.
Four Star Pizza director Brian Clarke explains: "There is a definitely a growing global demand for plant-based food products across the board and we have certainly noticed this amongst our own customer base in (Northern) Ireland over the past year or so.
"On the back of this demand from customers, we've been working for quite some time on creating the 'New Vegan' pizza to make sure that we get it just right. It wasn't easy and took a lot of hard work but it was crucially important for us to create a healthier pizza option for vegans, vegetarians and flexitarians without compromising on our renowned Four Star Pizza freshness and taste," he added.
"I'm delighted to report that we have achieved our goal – which is reflected in the feedback we've received so far. We only launched the new pizza last month and it's been really well received by our customers, so much so that it is currently in our top ten most popular pizzas. It's not just vegans that find our new pizza delicious, in fact I'm not a vegan myself but I love it!
"So we're pretty confident that the 'New Vegan' will be a big hit and a popular choice on our menu, which we continue to develop in line with what our customers want and ask for," concluded Brian.
Pizza fans have been praising the new pizza on social media.
"Four Star Pizza's vegan pizza is to die for," claimed happy customer @catboyklem on Twitter, while @pitbullstan69 tweeted, "OMGG Four Star Pizza are doing vegan pizza now!!!".
And vegan_omad_no1 took to Instagram to say, "OMG Four Star Pizza did it again! Amazing us with your vegan pizzas! It has really nice vegan cheese on it. Even when it was cold it didn't go rubbery which is amazing."
Four Star Pizza is renowned for its pizza dough which is freshly prepared by hand on site daily by passionate and expertly trained pizza chefs, using top quality locally sourced flour.
The first Four Star Pizza store in Ireland opened in Crumlin, Dublin, in 1986. Now the company employs more than 1,000 people on the island of Ireland. In Northern Ireland, the company opened its first store in Belfast in 1999.